Help/Frequently Asked Questions
General
???submission.form.welcome???
Why yet2.com?
yet2.com manages a global technology transfer marketplace and has provided open innovation services to large and small companies since 1999. yet2.com works with companies small and large supporting their innovation activities through technology acquisition and technology commercialization. yet2.com have a dedicated team with a wealth of experience in enabling the sharing of information and articulating technology features and benefits and how that fits to a WANT whilst maintaining confidential technology details. Since 1999, yet2.com has created a global wide network of technology transfer partners and formed relationships with technology transfer organizations, technical expert networks, SME networks, online technical communities, technology brokers and multinational companies. Consequently, yet2.com has significant experience in how companies acquire and divest technology and understand the best approaches to reviewing technology and identifying its fit to the needs of an organization whilst ensuring adequate protection for each party. Furthermore yet2.com understand the nuances between large companies and smaller technology innovators and successfully manage thousands of introductions for successful partnerships each day.
The Form
The submission form consists of five distinct pages and an optional, sixth page to upload attachments. Mouse-over the following images to preview each page in the form:
Submitter
Information
Legal
Solution
Overview
Solution
Status
Additional
Information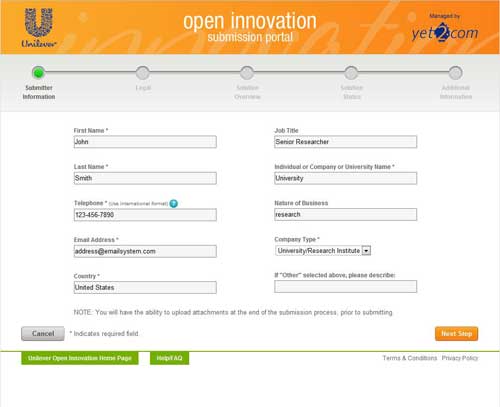 Submitter Information
On this page, supply your contact information so we know how to reach you. In addition, supply information about who you represent (yourself, your business, etc.). If you have cookies enabled in your browser, information entered on this page will be saved. Thus, you will not have to re-enter this information on any subsequent submissions.
Legal
On this page, you must agree to our legal terms. You will not be able to submit your solution without checking the "I agree" checkbox.
Solution Overview
On this page, give us an overview of your solution, including a title, a brief description, and its key benefits. In particular, describe differentiators from competitive technologies.
Solution Status
On this page, give us the status of your solution. Is this just an idea? Do you have a product already in production? Have patents been filed?
Additional Information
On this page, tell us your desired outcome (license, sale, etc.) and supply additional data not collected earlier in the form that you feel would be helpful in our evaluation. Note there are two submission buttons on this page, one for submitting your form without attachments and one that will permit you to upload attachments separately.
Frequently Asked Questions
Why have I been redirected from Unilever.com to a separate third party portal to submit my innovation?
The reasons are threefold. Firstly, Unilever want to ensure that all submitter responses are reviewed and dealt with in a consistent and timely manner. Secondly, Unilever understand that solutions can be provided by a variety of sources, some that may require support in describing the solution in a way that enables more clarity on how it solves a need. yet2.com has significant experience working in this area and is able to facilitate the process for ensuring best chance of success. Thirdly, ensuring only non-confidential information is received eliminates the risk of jeopardizing Unilever ongoing research programs, projects and developing concepts. Unilever may be developing similar concepts, so sharing only non-confidential information is important for protecting Unilever IP position as well as your own. If the non-confidential information is of interest then a Confidential Disclosure Agreement will be discussed with you and signed by you and Unilever prior to any confidential discussions.
What happens now?
When you "Click to Respond" and enter this yet2.com OI Portal you will be asked to complete a short "Submitter Information Form" including your contact details, a non-confidential overview of your solution and your agreement to the terms and conditions of submission (Waiver). yet2.com will review your details and evaluate the solution on behalf of Unilever within the third party managed portal.
What information does my submission need to include?
Contact information is essential for us to follow up. The submission form must also at least provide a good non-confidential overview of the proposed solution. You only need to send us an outline of your innovation at this stage describing how it works in a general technical sense and what the benefits to the consumer would be. Of course, the more information that you are able to provide the better. If you have a published or granted patent, that will normally be a sufficient description of itself, and you can simply provide us with the details of the published patent/application.
Do I have to be at least 18 years old to submit an innovation?
Yes, this is the legally-accepted age for agreeing to terms and conditions for this activity.
Who decides if my submission is of interest to Unilever?
yet2.com will review your "Submitter Information Form" in relation to criteria provided by Unilever to decide on whether your solution is a fit to Unilever needs. yet2.com will follow up directly with you via email or phone to inform you of the status. That may include, no further action, more details required or of interest for further discussion etc.
How long will it take for my submission to be reviewed? What are the stages?
On submitting your "Submitter Information Form", you will receive an email confirming your submission has been received, and you will be provided with a unique submission identification number. Contact will then be made within two working days to inform you of the status of your submission.
Reject - solution does not meet criteria
Under further review
Following further review, the following stages may apply and depending on which you will then be contacted directly by yet2.com for discussion:
Further details are required to clarify information provided
Solution is under review in Unilever
Solution is of interest and a Confidential Disclosure Agreement is required
Is there a reward for submitting my innovation?
There will be no reward for your submission on Technical Challenges in the initial stages. However if Unilever decide to pursue a submission, they will proceed with a mutually agreed contract and therefore related commercial terms on a case by case basis. This could include for example (but not limited to) product supply, license, Joint Venture, technology acquisition, patent acquisition etc.
In the case of Competitions, rewards will be detailed in advance as part of the competition terms.
Is only non-confidential information required?
Throughout the submission process, we ask for only information that imposes no obligations of confidentiality for Unilever or yet2.com and does not breach any confidentiality obligations that you the submitter owe to others. If confidential information is later required, we will negotiate a separate Confidential Disclosure Agreement prior to sharing of any confidential information.
Do I have to accept the Submission Portal Terms & Conditions?
Yes, these are created to protect you and your rights, and also eliminates the risk of jeopardizing Unilever ongoing research programs, projects and developing concepts.
If I have more than one submission, will I have to agree to a waiver for each submission?
Yes.
Do I have to have Intellectual Property protection? (Patents applied for or filed)
Ideally, your solution will be protected by granted or applied-for patents. However, Unilever are willing to discuss early stage ideas before a patent filing has been made or before it has been published. If you have not filed for patents yet, you should not disclose any information that jeopardizes your rights to file patents, and we advise you contact an IP lawyer prior to submission.